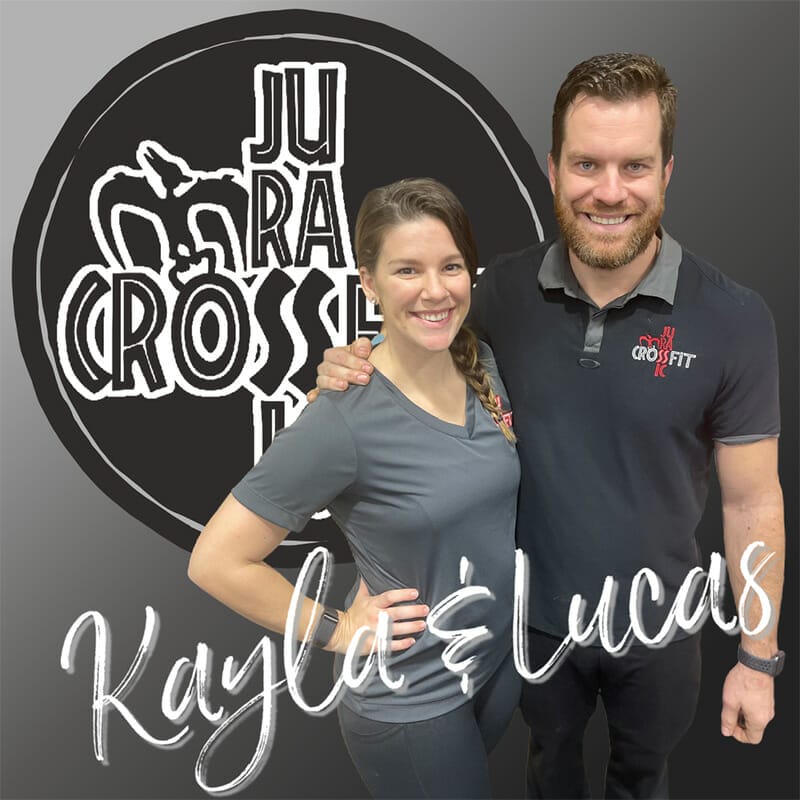 Our founders
Lucas and Kayla Allen
We started Jurassic CrossFit to help change peoples lives just like our lives were changed by CrossFit. If we could do it with zero guidance that's just maybe we could help others do the same and make the process far easier for them! When we started the gym we went all in and poured everything we had into it. This made us even more passionate about helping people because it was our entire livelihood. We created a gym to meet people at whatever level they are at and progress them into the best versions of themselves. We're now lucky enough to have a team of successful coaches who use their experiences and knowledge to improve the lives of our clients. We follow a head (Plan 1st), heart (put everything into what we do), hands (deliver our services efficiently) approach in our gym. Above all we simply want to help our clients first no matter what!
Coach
My Crossfit journey began as a thought many years ago. I was intrigued by the athletes and workouts but like so many, I thought I wasn't at THAT level and I needed to get into shape first. Fast forward a couple of years to a point in my life where I was in a low place: healthwise, mentally and physically. I desperately needed something to change in my life. So, with every ounce of courage I could find, I attended my first Crossfit class in July 2019. I will never forget how I felt after completing that first class. Through exhaustion and soreness, my first thought was `Hey I didn't die!` More surprisingly, I felt strong, accomplished and satisfied in a way I had never felt with any other workout. I had tried out so many other exercise venues but this one just clicked with me. That was it, I had found my thing. A place where I belonged and incredible, supportive people who would quickly become my fitness family. My passion for Crossfit grew with every WOD and eventually led me to attain my CF-L1 which enables me to coach. Now coaching has become a strong passion for me. I love working with others on their fitness journey and helping athletes accomplish their goals not only in the gym but also in life. It changed my life and it will change your life. It doesn't stop here. I will continue to better myself so I can be the best for you! Currently I am pursuing a certification in nutrition. My hope is to gain more knowledge to help you succeed in whatever goals you reach for. If I could leave you with one saying to inspire it would be this `Don`t be afraid to fail. Be afraid not to try.` I never regret failing at an attempt of an exercise but NOT trying is no longer an option for me. Every workout I conquer at Jurassic Crossfit, I am surprised of what my body and mind can do. You will be too!!!!! I can't wait to meet you and help you with your fitness journey!
Coach
Hey, I'm Daniel. Most people call me Barks. I am a husband (to Lindse) and a dad (to Charlee and Jo). I also work fulltime at Tinker AFB. I have been interested in sports and fitness most of my life and, in February of 2021, my wife finally talked me into trying CrossFit. I had been interested in it for a while but was too stubborn to take the next step. Needless to say, I am hooked. I quickly found the same two characteristics that has drawn me to sports and fitness: community and self-improvement. Jurassic CrossFit welcomes everyone into the community no matter where you're at in your fitness journey. We quickly became part of the family and I knew I had to help others find the same benefits in CrossFit that I have. I got my CF-L1 and started coaching. I am eager to learn more and more, welcome others into the family and help people find their best quality of life. Are you looking for a community that is fun and will stride with you on your fitness journey? Take the next step and check us out.
Coach
Hey there! My name is Desirae, but I generally go by Dez at the gym. I am a CrossFit Level 2 trainer. I've been an athlete at Jurassic since January 2017, and a coach since September 2017. I did my first WOD at Jurassic while visiting my parents in 2016, and once I moved here the following January, I was hooked for good. I'm not a person who has ever enjoyed working out, so I think that is a testament to how great CrossFit, and Jurassic CrossFit specifically, is. I also have my full time career as a Physical Therapist at the Stephenson Cancer Center, and love working there (and love to talk about it, if you're ever curious!). Anyone who knows me, knows that I always prefer to lift heavy things, and hate cardio, but the fact that CrossFit makes me do both, is really why I love it. I want to help each and every person who comes through our doors discover what they are capable of, how strong they are, and reach their full potential both inside and outside the gym. Can't wait to see all of you in the gym!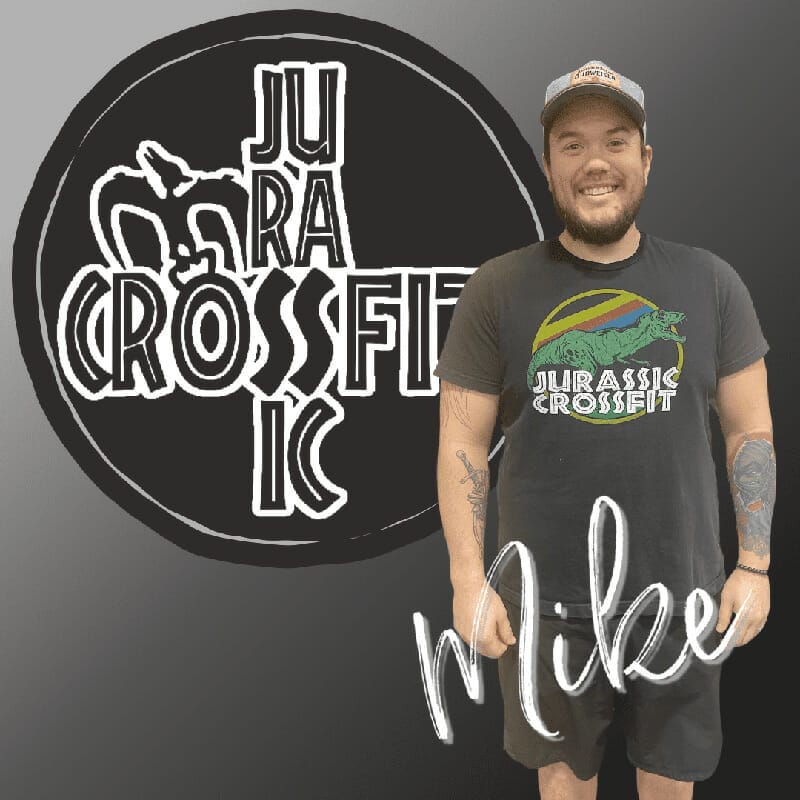 Coach
My name is Mike Livingston and I have been doing CrossFit since 2021 and coaching early 2022. I get a lot of questions/ people telling me reasons why they don't think CrossFit is for them, "movements are too much. Cardio is not for them. They cant keep up". Everyone is at their own level and CrossFit is all about progression. CrossFit was the best choice for ME, I found my thing. The community is what it's really all about. If you want to be a part of something greater than yourself something that will push you every time you are there, any time you are in need of a cheerleader to keep that push going then give Jurassic CrossFit a shot! As a coach I'll 100% keep motivating and helping you progress on your Crossfit Journey. My favorite movement right now is the snatch or the overhead squat. . But the big thing im working on now is cardio trying to build the motor up to keep going!. Ask for the Coach with the best Socks in the box and I'll see you on your first day!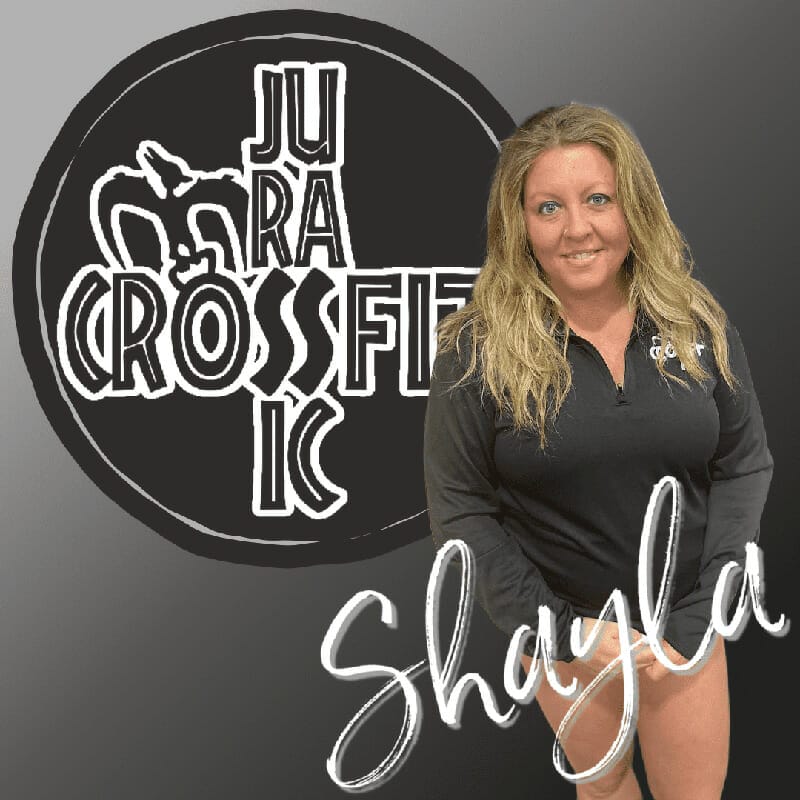 Coach
Hello I am Shayla Williams also known as Shay or Coach Shay. I have been at Jurassic for 2 years this August and a coach for seven months. I am a CF-L1 trainer and I absolutely LOVE IT. I honestly never intended for this to be a path in my life. However, I am so thankful to have found this path. I can not express in this single paragraph all the ways crossfit has helped me better my life. I am also able to incorporate my Psychology Degree into helping others inside and outside of the gym. I remember the doubts and insecurities I had when I joined Jurassic and I want to help others overcome those same fears so they can find the fulfillment and awesome experience here at Jurassic as I have. Thank you all for letting me be a part of your days.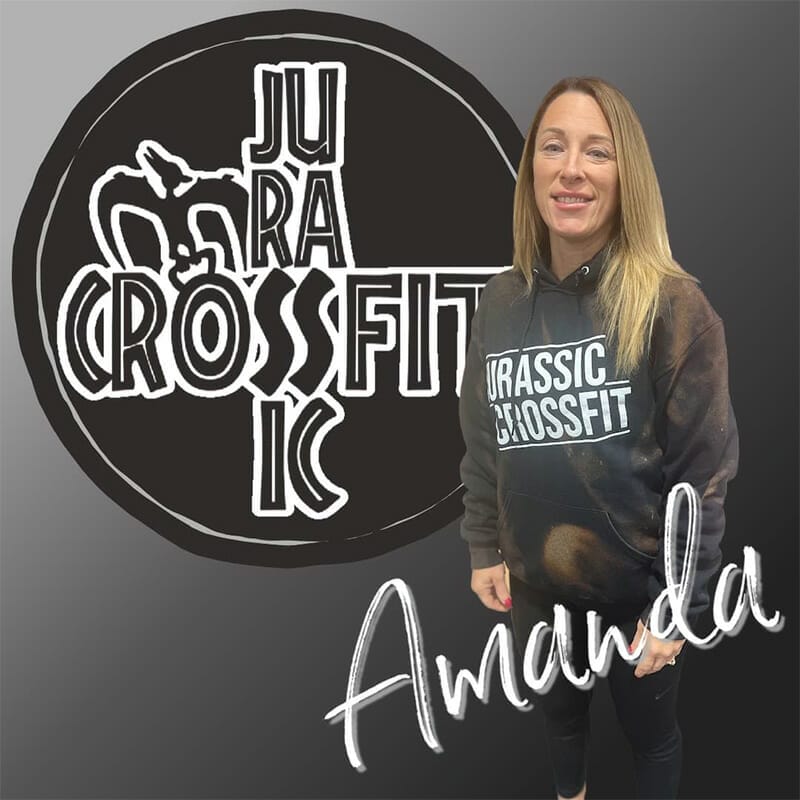 Coach
Hey Peeps Coach Amanda here to tell you a little bit you may not know about me. I am a wife, mom of 3 amazing kids and I have one beautiful granddaughter. I was a vascular nurse for 13 Years and specialized in vein treatment procedures. I am now in the pool service industry and love my outside job. I started my CrossFit journey in Jan 2021 at Jurassic and have fell in love with CrossFit and the community that comes with it. One of my main goals as a coach is to help people see a positive change in their life not only in the gym but outside the gym as well. The most exciting thing about being a coach is helping athletes go through this new journey and seeing how it improves their physical health, confidence, and mental health. One thing I want everyone who walks through the doors at Jurassic to know is I am always available for questions, concerns, advice and that I will always be your biggest cheerleader. If I could give you a piece of advice to carry with you it would be that when you feel the most uncomfortable that is when the greatest changes happen. Step out of your comfort zone because just on the other side is where dreams come true. See you in class.
Coach
Hello, my name is Brian talley. Also go by tally. I'm a CrossFit level 1 trainer. I have been an athlete address since June 2017. I had some friends invite me and I became hooked. Did my first competition 4 to 5 months thereafter and again I was hooked. I never was a hardcore athlete at all. I am proud to still be an athlete now 5 years into my journey. For me CrossFit is an outlet. I typically go 3 to 5 days a week. I now coach three classes a week and love motivating our fellow athletes. I in addition also run my own company. It is an electrical business called Insight electric. Our gym goers see our work every day while they're working out. We have a great CrossFit fan for anyone that comes to experience it. CrossFit has bettered my way of life and continue to do so. Just have to get that nutrition thing in check. It was all avenues are put forth at Jurassic CrossFit. I hope to see you soon and will help with that Fitness journey!
Get started
Click the button below to book a free intro. See if Jurassic CrossFit is right for you.
Fill out the form below to get started
Take the first step towards getting the results that you want
Free Intro